The landscape appears daunting for prospective affiliates hoping to make a breakthrough in the igaming world.
Certainly, entrants to any market should not expect to discover any hitherto unknown shortcuts and it's vital to expect to play the long game before gaining depositing customers.
Content, of course, remains king and with Google honing in on wide-ranging quality on websites, a passion for the selected niche is paramount if a "newbie" is to last the pace.
For a healthy dose of expert advice, INTERGAMINGI picked the brains of ActiveWin's Bernadette Kelly.
INTERGAMINGI: How difficult is it for a new would-be affiliate to make a mark in the igaming market in 2019?
Bernadette Kelly: "There are very mature markets, like the UK and parts of Europe, in which case I would say it is very difficult to make a success of an affiliate site.
"A sports site might stand a better chance as long as it produces outstanding, media-rich content or focuses on a particular niche. However, casino and bingo would have a very slim chance of success in Europe purely on organic traffic. It's simply too saturated, and the nature of casino and bingo is pretty static. There is not much 'news' to report on as there is with sports, with the exception of game launches.
"When you consider just about every casino and bingo site share content that is very similar – and not nearly as frequent as the plethora of sports going on around the world every day – it's a hard shell to crack.
"Conversely, newer markets like the US would fare better for casino and bingo affiliates because it's still untapped. Sport-centric sites in the States have been around for much longer, so trying to outrank them through organic activity would be a herculean task."
What time-scale and what level of expenditure are necessary before serious results can be achieved in terms of depositing customers?
"In general, anyone just branching into affiliate marketing shouldn't expect to start converting for several months. But there are so many other factors to consider. Things like site structure, content, imagery, SEO strategy, social media presence, backlinks, and the level of competitive sites will all have an impact on conversion.
"I would encourage anyone starting up a new affiliate site to think about investing in paid media. Whether it's PPC, social ads, sponsored posts, or carefully planned native, it should get the ball rolling on conversion. In addition, it can provide valuable information on the keywords and content that resonate with their audience."
How important is it to not get disheartened if the quality content is there, but clicks aren't coming?
"My advice would be that you should only get involved in publishing an affiliate website if you adore writing about your subject matter. The passion should be about the content; the
conversion of offers should be considered a pleasant by-product. If it's approached with this mindset, there is far less frustration and heartache for the fledgling webmaster."
Where can a new entrant find the support needed to grow their business?
"Several popular affiliate forums exist, so I'd encourage newbies to seek out the one that best suits their focus. Do a Google search of forums of the kind of affiliate type you want to focus on, and start engaging. It's a tight community, so there is a lot of banter and advice shared."
What specific advice would you offer to a new affiliate in terms of the content of their website?
"The best advice I have in my locker is there is no half-stepping with content. Google has rolled out three core updates in 2019. Three!
"Each of them seems to have focused on the quality of content across an entire website. Duplicate and common content are big fat no-nos while long-form, expertly written content gets rewarded with higher rankings.
"I would ask any new affiliate site to have an honest discussion about the commitment to constantly generate quality content and their ability to spend hours sharing and engaging on social media to build a following. Otherwise, the chance of success is minimal."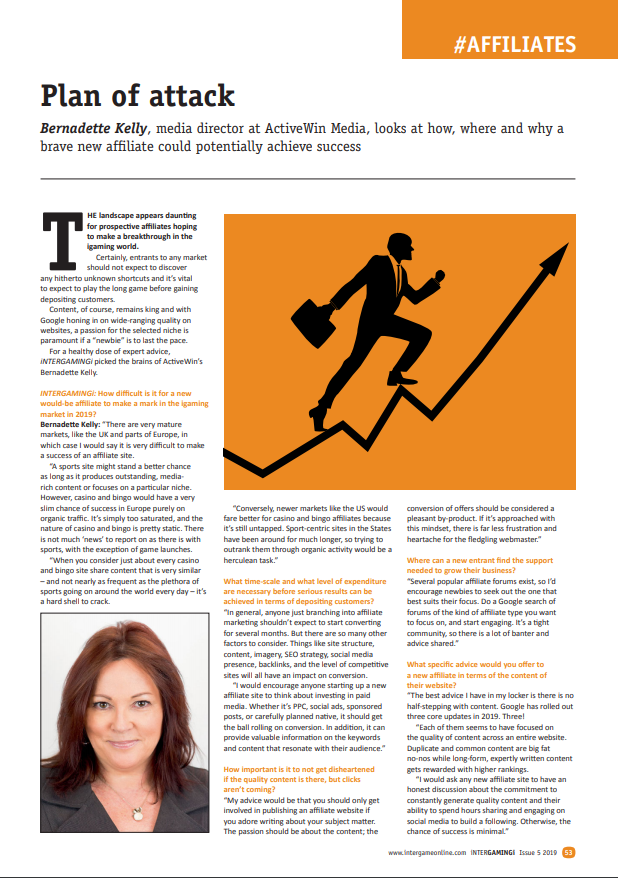 This article was originally posted here.